Holy Apostles, New Berlin

Mission: Holy Apostles Catholic Parish is a vibrant community of people working together to Love God. Love Others. And Transform Our World. We are a place where faith can be nurtured and where people are encouraged to know Christ and make Christ known.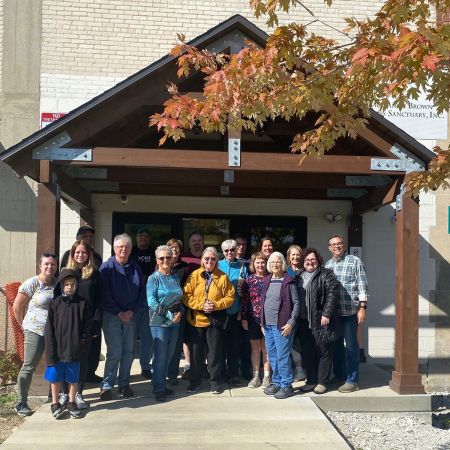 The Holy Apostle Parish bulletin boldly proclaims "Love God. Love Others. Transform our World." So many things standout about how this parish lives out those words in their communication and actions. Just a quick glance at their parish leadership roster and you will note that most every position begins with the word "Mission" be it "Mission Director", "Mission Manager", "Mission Coordinator".
It appears to be a constant reminder that they are so much more than filling a position or responsible for a job. They are fulfillers of the Mission of the Parish in all that they do.
And just one of the things they fulfill at an exceptional level is their dedication and commitment to the MacCanon Brown Homeless Sanctuary.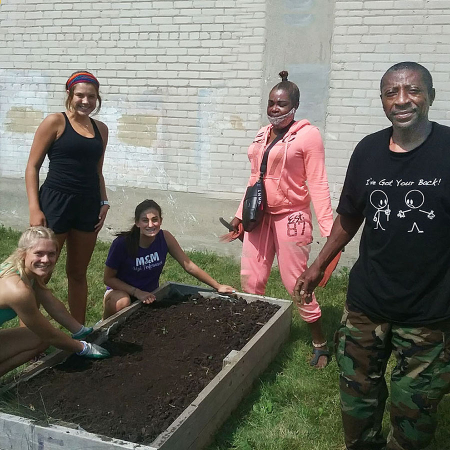 It will take you about a nanosecond to realize that commitment when meet Teresa Tobin, The Mission Manager for Child and Family Discipleship.
Teresa demonstrates her commitment to the Sanctuary by assisting in a wide variety of activities including, but not limited to, food donation organizing and distribution, modeling in the Sanctuary donations closet Fashion Show, and assisting in organizing the H.A. Parish Lenten campaign for the Sanctuary Welcome Center.
Teresa is also an incredible recruiter of H.A. volunteers to join in the Sanctuary Spirit. Teresa has brought family and friends to their "conversation experience at the Sanctuary" and those family and friends have invited others.
Teresa shared that she believes the Sanctuary "gives a hand-up vs. a hand-out" and feels grateful to be able to be given the opportunity to make a difference!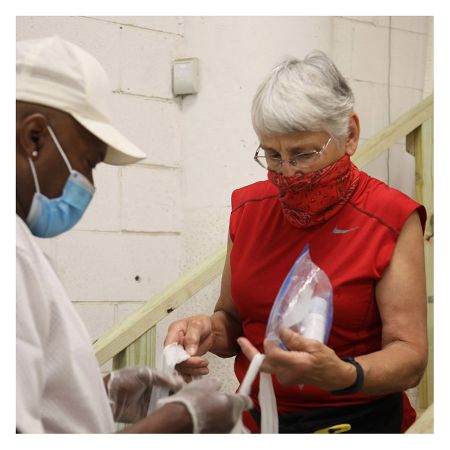 If you visit Hephatha during a meal or supplies day or see a team gardening in the Sanctuary gardens, you may see a slight but dynamic woman ministering to the guests and the plantings.
Meet Sandy Nowak, a true giver of time, talent, and whatever else she can muster for the guests of Hephatha and the MBHS! And when Sandy is not at the Sanctuary sites, you may find her storing and delivering donations that have been ordered by donors and sent to her home or delivered to the donation box at Holy Apostles Church on behalf of the Sanctuary.
Like Teresa, Sandy recruits and truly lives out what she believes is her role as a "Conduit of God's Grace". She shared that it can be as simple as asking "Do you want to come with me?" After one visit, that invitee often ends up inviting others.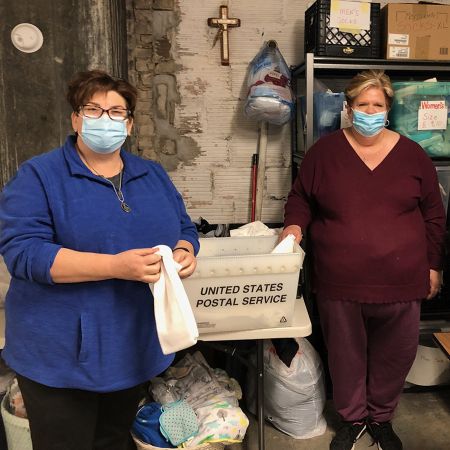 Sandy and Mary Jo also share the twice a week pick-up and delivery of the contents in the Sanctuary donations box in the Holy Apostles' Parish Welcome Center.
Each of these holy women, along with Fr. Arul Ponnaiyan and the incredibly generous mission team and parishioners at Holy Apostles Parish, are true disciples to the MacCanon Brown Homeless Sanctuary!
Thank YOU Holy Apostles Parish for sharing your light to brighten the lives of those who are served by the MacCanon Brown Homeless Sanctuary.